All Time Best Stephen King Mini Series to Binge Watch with Friends
Home » Blog » Halloween's Hottest Trends, Halloween Headlines
November 9, 2017 By Cait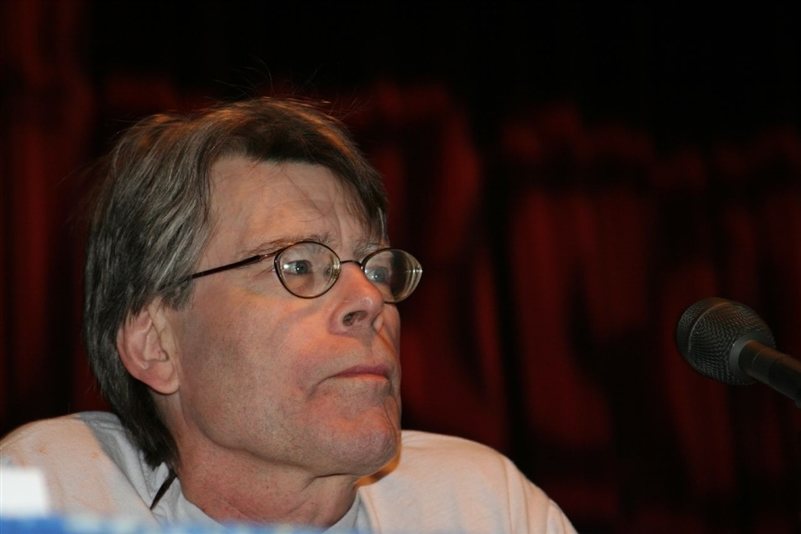 The King of Horror Movies Himself, Stephen King, Has a Ton of Epic Mini Series Fans Won't Want to Miss Out On!
Photo by:
Pinguino K, via Flickr. (CC BY-NC-SA 2.0)
With the Stephen King classic "IT" being made into a full length feature film this year, we were thinking back on all of our favorite Stephen King classics that made their debut on the small screen, rather than the silver screen, and needless to say, there's quite a few! Over the years, there have been a variety of tv mini series based on the books, short stories, and screen plays of Stephen King, many of which have been as iconic and memorable as the full length movies that have been made.
If you're looking for a fun horror binge watch, then there's simply nothing better than diving into a mini-series - they have cliffhangers, they take days to watch, and they spread the action, horror, and suspense out over numerous episodes.
Not sure where to start? No problem! We've compiled a list of our favorite Stephen King Mini Series & Made for TV Movies, so you can dive into a scary-good binge watching session with friends this weekend:
IT (The 1990 TV Mini Series) - With the latest incantation of

"IT"

out in theaters right now, it should come as no surprise that the

"IT"

mini series is at the top of our "Must Watch Mini Series" List. This is a true classic, starring none other than Tim Curry as Pennywise the Clown, and boy, did he rise to the occasion. If you were a kid in the 90s, you undoubtedly had nightmares featuring Curry as Pennywise - his version of

"IT"

was truly iconic, and still is to this day, and although

"IT"

has been adapted into a full length feature movie, this mini series has absolutely stood the test of time, almost 30 years later.


Rose Red (The 2002 Mini Series) - A little more recent that the

"IT"

mini series, Rose Red is another one of our faves. The series centers around a haunted mansion estate in Seattle, known simply as "Rose Red", where numerous horrific unexplained tragedies and supernatural events occurred. In the series, a psychologist, Dr. Joyce Reardon (played by Nancy Travis), rounds up a team of well-known psychics, and invites them to investigate the Rose Red property with her, in an attempt to "scientifically prove" that paranormal activity is in fact real. The group gets more than they bargained for, and it doesn't take long for the house to start taking victims. Although it's not a major plot point, Stephen King does make a cameo as a pizza delivery guy, which is pretty funny. Definitely worth a watch.


Salem's Lot (The 1979 Mini Series) - In this iconic mini series, writer Ben Mears (played by David Soul), returns to his hometown of Jerusalem's Lot (or, 'Salem's Lot for short), only to find out that the townspeople are being turned into vampires. Ben and his cohort of non-vampire would-be-heroes try to save the town, and eventually end up on the run from the vampires of Salem's Lot in this classic winding tale of epic proportions.


Kingdom Hospital (The 2004 Mini Series) - When it comes to mini series, this is a doozy. A whopping 13 episodes,

"Kingdom Hospital"

is a creepy binge watch experience all on its own, and it's good for a whole weekend's worth of binge watching. Kingdom Hospial is based in (you guessed it), Maine, and the hospital is of course built on the creepy haunted grounds that's been home to a variety of spooky things, including an American Civil War uniform manufacturing mill and another creepy hospital known as "Old Kingdom", that had burnt down, which is why the hospital that the story centers around is aptly named "New Kingdom".

A psychic checks in determined to figure out what's going on at the hospital, and despite the hospital staff's opinion that she's a hypochondriac, she's determined to find out what's going on with the spirits that are seemingly trapped at the haunted hospital. If you're already freaked out by hospitals, this might be one you'd like to pass on - unless you want to be even more creeped out at your next doctor's appointment, that is.


The Dead Zone (The TV Series from 2002 - 2007) - Mini Series just not cutting it? Why not dive into

"The Dead Zone"

, a full blown tv series that ran for six seasons, and is based on the book of the same name. The series focuses on Johnny Smith (played by Anthony Michael Hall), who has discovered he has developed psychic abilities after awakening from a coma. Johnny has psychic visions that are triggered by touching people, which doctors attribute to a previous "dead zone" of his brain functioning post accident. With the help of a full cast of characters, Johnny hones his skills and uses them to solve crimes, but he also keeps seeing visions of an apocalyptic future event related to a certain politician getting elected.
If you're a Stephen King fan and you haven't yet watched these mini series, then you'll definitely want to be sure to check them out - they're a fun way to get your fill of scares, and hey, you've got well more than a single night's worth of binge-watching material here.
Have You Seen Any of the Stephen King Mini Series? Which is Your Fave?
Let Us Know in the Comments Below!