Visitors to Queen Mary's Dark Harbor Get a Scare on Shuttle Ride Instead
Home » Blog » CaliforniaHauntedHouses.com News and Updates, California Haunt News, Halloween Headlines
November 2, 2018 By Wendy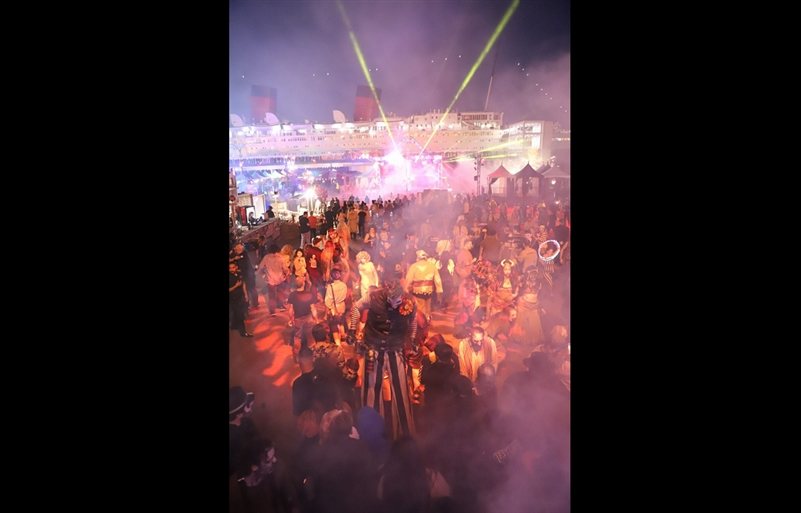 Queen Mary's Dark Harbor
Photo by:
The Queen Mary's Dark Harbor
When the haunted ship attraction Queen Mary's Dark Harbor announced no on-site parking would be available from October 31st – November 2nd, and that guest should resort to off-site parking with a free shuttle to the park, some guests were in for a nightmare when they boarded the shuttle bus.
According to local news reporting, what was supposed to be a 10-minute shuttle ride turned into a nightmare and chaos with some passengers having to call 911 for help. The bus driver took a detour with 20+ passengers on board with the destination being Queen Mary's Dark Harbor, but instead the bus was heading in the opposite direction of where they needed to go.
Concerns grew amongst passengers for the misdirection, but even more so when some asked the bus driver to pull over. The bus driver refused. Some passengers grew so concerned that they thought they were being kidnapped and opted to climb out of the windows when the bus was at a red light.
The event all played out with the bus finally stopping in Carson when they should have been in Long Beach – about 20 minutes away.
Police arrested the driver identified as James Lee, 60. Lee informed police he became disoriented and lost after he had to take detours resulting from road closures.
A representative for the Queen Mary issued a statement that said, "The safety and security of our guests are paramount. We are working with all parties involved to learn more about the incident with this vendor, and will provide updates as more information develops."
Watch the video shared by a passenger here.