Interested in Reading About True Ghost Stories? "Ordinary People, Extraordinary Tales" is Full of Real Spook!
Home » Blog » CaliforniaHauntedHouses.com News and Updates, Paranormal Headlines, California Haunt News
February 23, 2016 By Chelsea T.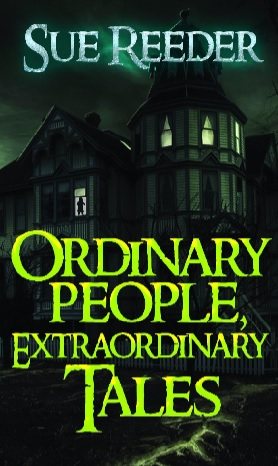 "Ordinary People, Extraordinary Tales" by Sue Reeder
Los Angeles, CA - February 23, 2015 - Pegasus Publishers are pleased to announce the publication of Ordinary People, Extraordinary Tales by Sue Reeder, available to order from bookshops or direct from the publisher.
About the Book:
In Ordinary People, Extraordinary Tales, Sue Reeder brings together accounts of the paranormal, ghosts and strange occurrences experienced by people from all over the globe, as well as her own unexplained tales. Be they stories of relatives who have returned after death or signs that could only have been made by another "presence", they offer a tantalising glimpse into the human psyche and of the world that may be beyond.
About the Author:
Sue Reeder is a first time author who lives with her husband and son in Norfolk, England. In 2007, with the help from two great teachers, Carol and George, Reeder had the ability of psychic art - a form of mediumship where spirit works through a person to draw faces of loved ones who have departed.
Click here to visit Reeder's website for more information.