Jimmy Kimmel's Annual "We Ate All Your Halloween Candy" Prank Was Just as Funny as Ever This Year
Home » Blog » Halloween's Hottest Trends, Little Ghost & Ghouls Corner , California Haunt News, Halloween Headlines
November 6, 2017 By Cait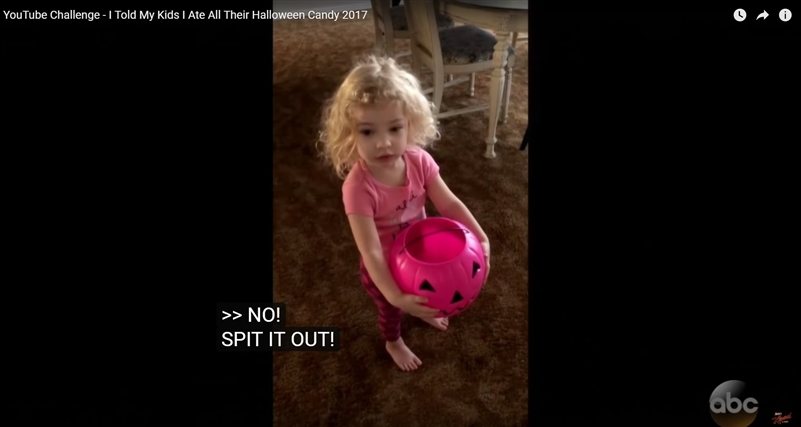 After Being Told Her Mom Ate All of Her Halloween Candy, One Tot Tells Her Mom to Spit it Back Out!
Photo by:
The Jimmy Kimmel Show, via YouTube.
For years now, Jimmy Kimmel has urged parents to prank their kids by having parents tell their children on November 1st, that they accidentally ate all of the kids Halloween Candy last night. What started as a funny gag has turned into a can't-miss Halloween ritual, with countless parents across the country uploading their prank videos to YouTube for Jimmy, and each year, the best of the best (the funniest, most ridiculous, and most over-the-top reactions) are aired on Jimmy Kimmel Live, much to the chagrin of parents.
This year, Jimmy was off on Halloween, and guest host Jennifer Lawrence shared the clips, starting off with "We have something for you that is both a trick, and a treat. Every year Jimmy invites parents to pretend they ate all of their kids Halloween candy, and once again, those evil parents delivered in a huuuuuge and bigly way. So, here it is - the 7th Annual "Hey Jimmy Kimmel, I Told My Kids I Ate All Their Halloween Candy" #SAD".
The video begins with two sweet kids crying, and seemingly screeching in devastation, followed by a toddler urging her mom to "spit it out of her tummy", and a lot of general devastation as kids went through all of the stages of grief, with some kids telling their parents they were selfish, and one even flipping off his mom when she says she's "really sorry" (to be fair, he did think his hard-earned Halloween haul was completely devastated).

Let's just say there's a lot of tears, screaming, and general distress. One little boy deadpans "Yep, and that's why I don't love you anymore," when his mom confirms again that she in fact ate ALL of his candy. This year, there's throwing of candy buckets, swearing by tiny tots, a punch to the genitals, and of course, one child who threatens to beat up Jimmy Kimmel when inevitably, one mom tells their child "Jimmy Kimmel told me to prank you." Overall, another success in pranking, it seems.
This year, Jimmy himself got in on the fun, pranking his own three year old daughter, which you can watch in a separate video, below.
Have You Watched This Year's Jimmy Kimmel Halloween Candy Prank?
Let Us Know Your Thoughts in the Comments Below!