Haven't Taken Down Your Halloween Decor Yet? Here's How to Make It Festive for Christmas!
Home » Blog » Halloween's Hottest Trends, Little Ghost & Ghouls Corner , Scary-Good DIY Ideas, Halloween Headlines
November 30, 2017 By Cait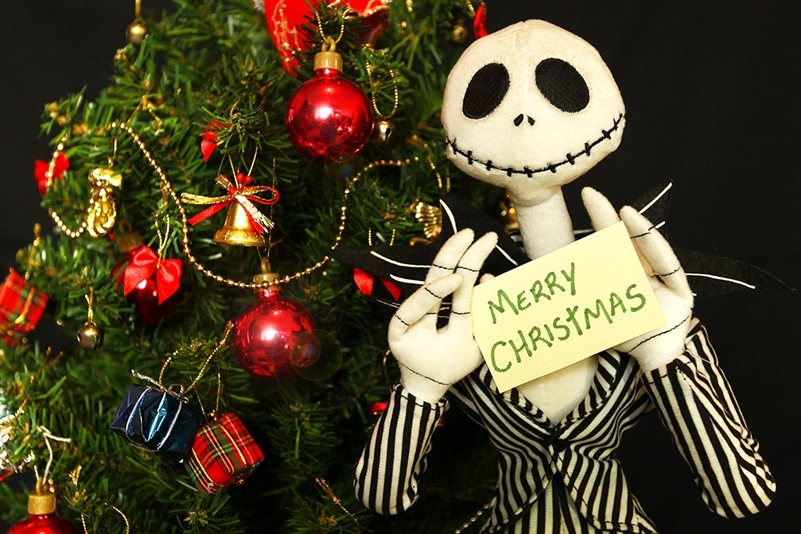 Christmas is Right Around the Corner - Wouldn't It Be Nice If You Could Incorporate Your Halloween Faves Into Your Christmas Decor This Year?
Photo by:
Augusto dos Santos, via Flickr. (CC BY-NC-ND 2.0)
Ok, so if you're like us here at California Haunted Houses, you might be the type of person who procrastinates taking their Halloween decorations a bit. But, now that Thanksgiving has passed, you might be looking around, and wondering to yourself - "How Can I Make These Festive for Christmas Without Actually Taking Down My Cool Halloween Decorations?"
We were thinking the same thing, and so we came up with some cool ways to re-purpose your Halloween decor, and turn your Halloween Paradise into a Winter Wonderland - just for a little bit. Think of yourself as Jack Skellington in The Nightmare Before Christmas, and get ready to get your festive cheer on!
Play It Off As Intentional

- Our First Suggestion is The Most Important: Tell Everyone You're Going for a "

Nightmare Before Christmas

Theme" this holiday, so that even the Halloween decorations that you

can't

add some simple Christmas cheer to seem like they're in place, and on theme. This blanket statement will really help you to tie the whole thing together - seriously.



Add Christmas Hats To Pumpkins, Cats, & Bats

- Whether they're statuettes, or paper cut outs hanging on the walls, adding a Santa Hat to your jack'o'lanterns, spooky bats, creepy crows, Halloween black cats, and other decorative pals will ensure that your buddies are getting in the spirit of the season right along with you.



Carve a Christmas Themed Jack'o'Lantern

- Ok, so most of your pumpkins have probably gone bad by now, but everyone's got that one magical pumpkin that for reasons unknown, looks as good as the day you picked it from the patch. Or, maybe, you have a surplus of styrofoam pumpkins from your post-Halloween clearance binge. Either way - take a couple of 'em, and carve them up with Christmas designs, or maybe your favorite scene from

The Nightmare Before Christmas

and boom! All of your pumpkins are not holiday decor, whether or not they're all carved (just group them together).



Make One of Those Monster Wreaths

- Ok, so this one is simple - you take a regular old Christmas wreath (bonus points for one with a big red bow), and you add eyes to it (if you're going for silly, go with ridiculous Googly Eyes, if you're going for kinda scary, you can use the spoon park from yellow plastic spoons, and add angry looking pupils in with a sharpie), and some white scrap cardboard for sharp, pointy teeth. This is another

Nightmare Before Christmas

reference (you may remember the festive wreath with teeth making a brief appearance in Christmas Town), and it's truly a funny, cute, and quick craft. DIY NMBC Props Blog has a great tutorial for making your own, which you can find here.



If You're Feeling Extra Festive, Turn Your Pumpkins Into Christmas Ornaments

- This is another simple trick for repurposing pumpkins that still have lots of life. Simply spray paint your pumpkins green and/or red, and spray paint a few styrofoam cups silver. Glue the cups over the stems of the painted pumpkins, and boom! You've transformed your Festive Fall Gourds into Cute Christmas Decor!



Dress Up Your Outdoor Halloween Mannequins With Christmas Attire

- So whether you've got a "life sized" Jack Skellington, or another outdoor decoration (say, zombies crawling out of their graves on your front lawn) - instead of taking them down for Christmas, dress 'em up! A Santa Hat, Elf Hat, and even, if you're feeling really festive, a Santa Beard can go quite a long way.



Go All In With a Nightmare Before Christmas Christmas Tree

- Over the years, this one has become easier and easier to execute. Halloween Ornaments are widely available throughout the Fall, and Disney has finally started releasing even more

Nightmare Before Christmas

ornaments each year. They also have a ton of movie-related merch you can get nowadays too to deck the halls with - might not be a bad idea to pick some up if you're planning on going all in.



Pro Tip: If you decide to go for it with a full on

Nightmare Before Christmas

themed Christmas tree, try to get one of those white Christmas trees that are available nowadays (maybe pick one up on clearance after the holiday this year?) - they look awesome with purple, orange, and white twinkling Christmas lights, and your Halloween Ornaments will really stand out on a white tree.
How Do You Incorporate Halloween Decor Into Your Christmas Decorating?
Share Your Ideas in the Comments Below!