Find Out What's in Store this Halloween Season at The Cinema of Fear!
Home » Blog » California's Best Weekend Events, California Haunts: An In Depth Look, CaliforniaHauntedHouses.com News and Updates, California Haunt News
July 26, 2019 By Haunt News & Press Releases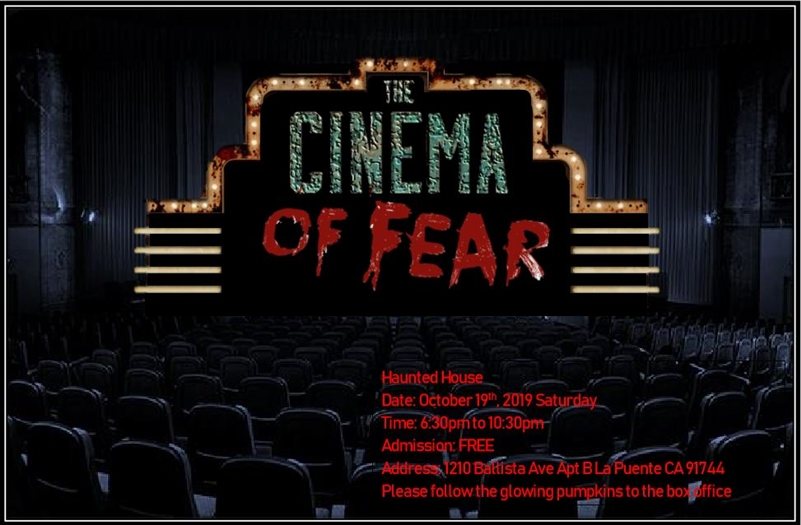 CaliforniaHauntedHouses.com recently sat down with Joseph Ancheta of The Cinema of Fear, to discuss what's happening at the home haunt this year.
What's new at The Cinema of Fear for 2019? Do you have any new rides, attractions, or special features that Haunt Seekers should know about?
This year our home haunt will be The Cinema of Fear, a brand new maze that brings our guest into the worlds of Horror Films. The maze has a brand new layout and will feature many surprises and effects.
What are you most excited about for the 2019 Halloween Season?
This year is amazing as we return to the home haunt industry, our family tradition of Halloween Mazes continues and our younger family members are now at the age to join in on not just performing, but helping us design and create our new attraction.
What differentiates The Cinema of Fear from other local haunts in California?
Well, our Haunt has been around for quite some time, most haunts are going down the extreme scare factor route and gory, our new attraction takes us back in time to the true days of Horror films and brings you the traditional feel of a 1990's maze.
How long has The Cinema of Fear been in business? Can you tell us a bit more about The Cinema of Fear's history?
We have been around since 1994, back when we were located in Monterey Park, my Uncle Jojo Robledo started off as a yard haunt for a few years, as the season's passed we grew bigger and around 1998 turned into a full maze. Our mazes have always been free and the performers are friends and family. Well, our themes may change, we stick to the true roots of a home haunt, classic characters and scares.
What's your favorite experience since opening The Cinema of Fear?
Every year we get told how much fun our guest's have, but in 2016 a guest came up to me and said man you truly nail what reminds me of watching 1980s horror films, the music and characters you use brought back so many memories.
How long is a typical haunt experience at The Cinema of Fear from start to finish?
Depending on how fast you walk, the maze can last about 5 to 7 minutes.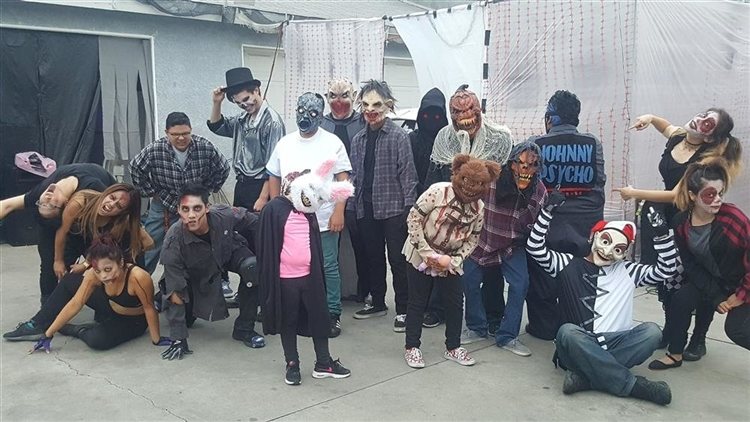 On a scale from 1 to 10, how scary would you say The Cinema of Fear is? Why?
I say we aim to be a 7 or 8, we want you to get scared at the same time enjoy everything you see around you. Tons of Easter eggs can be found so keep an eye out.
Does The Cinema of Fear's property have any real haunted history? Do you have a spooky encounter you'd like to share?
Yes, it does, a few years back a random couple came knocking, asking if they could pay their respects, and left a few flowers in our yard, turns out they have buried pets in the back yard for a few years and I don't recall how many, but yes it was once a Pet Sematary.
What inspired you to open up a haunted attraction? What's your favorite part of the business?
My Uncle Jojo had always raised us in the Halloween celebrations, so since he passed a few years back, I have continued with my family to keep the tradition alive and bring new terror each year.
How has new technology (i.e. animatronics, special props, etc) helped you to enhance The Cinema of Fear?
It does time to time, we like to keep everything towards live performers as much as we can but you may see animatronics and a few special props here and there.
Can The Cinema of Fear accommodate large groups? How many people can experience The Cinema of Fear together as a group?
We can accommodate as many as you like to walk through together, we stray away from going pass a group of 5 or more per entry, but if you want to experience it all together we will let you through.
Does The Cinema of Fear offer any special deals, discounts, or coupons?
None needed as the event is free!
Anything else you'd like to let us know about The Cinema of Fear?
We invite everyone out this year as no spoilers will be given as to what is inside, just know it will be fun and scary.