Experience Over 20,000 Square Feet of Terror at Blind Scream Haunted House!
Home » Blog » California Haunts: An In Depth Look
October 9, 2018 By Haunt News & Press Releases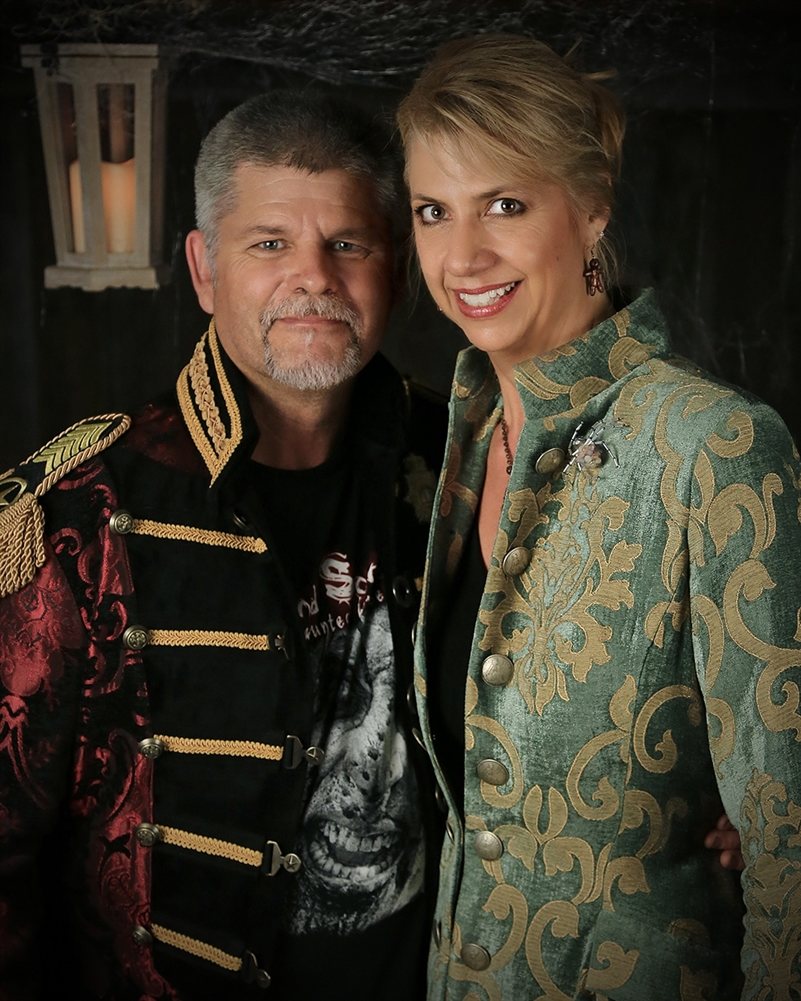 Drew Dominguez and Judy Walker of Blind Scream Haunted House
CaliforniaHauntedHouses.com recently sat down with Judy Walker of Blind Scream Haunted House, to discuss what's new at the haunt for the 2018 Halloween Season! Located in Rohnert Park, this attraction offers two terrifying haunts at one scary-good location. Read below to find out what's in store for this year!
What's new at Blind Scream Haunted House for 2018? Do you have any new rides, attractions, or special features that Haunt Seekers should know about?
Blind Scream Haunted House is constantly looking for innovative ways to scare our fans – from combing Halloween trade shows for the latest props, to developing fresh layouts, themes and characters for each of our Haunts. We are turning back the clock this year to focus on some of our favorite creepy characters from the last 9 years of Haunts. Haunt designer Drew Dominguez has developed an extensive background story for all the characters we see lurking in Blind Scream over the years, and the story focuses on the dark escapades of the Hunter family. The Good "Doc" Hunter comes back this year in "Doc's Horrortorium" – a creepy roadside attraction filled with depraved members of the Hunter family, all dying to MEAT you! And we love the madness at the core of Lil Horrus Hunter – his idea of fun usually ends with lots of screaming. Join in the mayhem by visiting "Lil Horrus's Fun House" where dreadfully demented freaks are waiting for you around every turn! Drew has also spent a lot of time this past year working in his studio to create original props for Blind Scream.
What are you most excited about for the 2018 Halloween Season?
2017 was a tough year for us in the North Bay. The wildfires struck right after our first opening weekend last year – and we all had to come together as a community to take care of each other. There really wasn't anything scarier than what we went through. But we did take the opportunity to help our neighbors with a free trick-or-treat for little ones and a free Halloween costume drive. This year, we are really looking forward to the enjoyment of the Halloween season again, and a return to some sense of normalcy. Our actors are excited to be back, and we are ready to do what we do best: Scare the pee out of you!
What differentiates Blind Scream Haunted House from other local haunts in California?
The level of craftsmanship, detail and artistry at Blind Scream Haunted House is really what sets us apart from other haunted houses. Designer Drew Dominguez previously worked on attractions with Disney and Knott's Berry Farm. That's not a bad resume to have, right?! So immediately you know that we operate at a level that other haunts simply can't reach. We bring in artists to create murals and we make our own props. Drew really understands how to use every tool to enhance the experience for guests. And we also have an amazing set of actors at Blind Scream, many of whom come back year after year to be a part of the scare team. It's our own little family of misfits, and we are really proud of them.
How long has Blind Scream Haunted House been in business? Can you tell us a bit more about Blind Scream Haunted House's history?
Blind Scream Haunted House started in Santa Rosa in 2009. As I mentioned, designer Drew Dominguez had prior experience at Disney and Knott's Berry Farm. Drew developed the fictitious Hunter family to populate Blind Scream, with a family tree that twists and turns… each branch as rotten as the last. We have moved around Sonoma County, as the haunt has grown and changed. For the last 5 years, we have been in Rohnert Park at SOMO Village.
What's your favorite experience since opening Blind Scream Haunted House?
I really love to see the way the Haunt can instill confidence in our actors. We have some actors who joined us as timid students and are now full-fledged leaders in the cast, coaching and mentoring other actors. Acting in a haunted house is a unique experience… it requires improvisation, creativity, and self-confidence. We've seen many people blossom into their roles, it feels great to see that happen!
How long is a typical haunt experience at Blind Scream Haunted House from start to finish?
We have two huge haunted houses at Blind Scream Haunted House – all indoors so you don't need to worry about the weather. Typically, it takes about 10 to 15 minutes to go through each Haunt. We also have an attraction on site called "The Last Ride" – which let's you feel what it is like to be buried alive. Climb into a real coffin and hear the sounds, smell the smells, and listen to the racing of your own heart beat as you are lowered into the ground. It's pretty crazy! As we get closer to Halloween, you may be spending longer waiting in line to go through the attractions – but we also offer a Fast Pass that puts you at the front of the line!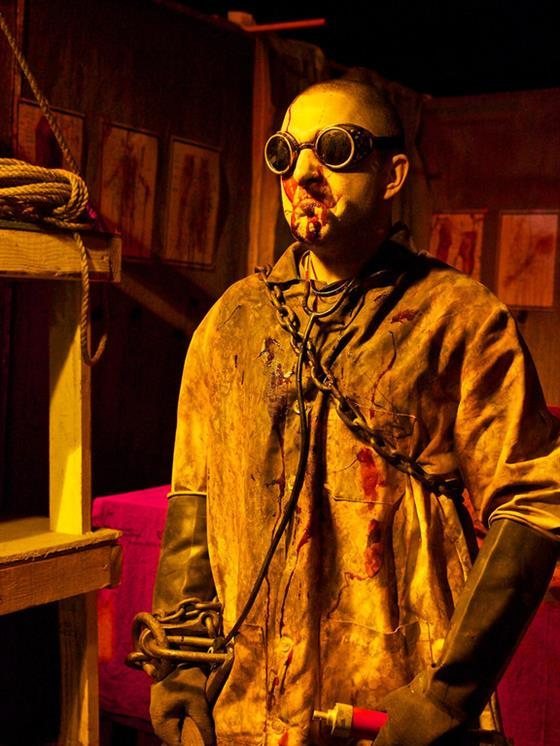 On a scale from 1 to 10, how scary would you say Blind Scream Haunted House is? Why?
We don't claim to be the scariest haunted house, but we are the Halloween-iest haunted house! We built Blind Scream Haunted House to get your heart racing and your imagination whirling. The characters in our Haunted Houses will stay with you after you've left, popping up in memories of laughter and screams with friends. Some parts of our Haunts might be scarier, depending on your phobias. We rate about 6 to 7 for scares on a scale of 1 to 10.
Does Blind Scream Haunted House's property have any real haunted history? Do you have a spooky encounter you'd like to share?
Blind Scream Haunted House is in a relatively new building and does not have any spooks lurking around. However, Sonoma County has some great spooky spots to visit, so why not make a full day of it! Come visit Bodega during the day to see where The Birds was filmed, then wrap up your adventure in the evening with scares at Blind Scream Haunted House!
What inspired you to open up a haunted attraction? What's your favorite part of the business?
I have extensive experience with events in the North Bay and I love Halloween. The opportunity to pair together with designer Drew Dominguez on an imaginative, immersive haunted house was just too much fun to pass up. It's also exciting to come up with new themes and scares each year.
How has new technology (i.e. animatronics, special props, etc) helped you to enhance Blind Scream Haunted House?
We make a point of visiting trade shows each year to add to our props and costumes. There are so many fun ways to enhance the experience for our guests including custom soundtracks and sound effects, our own prop studio, a spinning vortex prop, and much more!
Can Blind Scream Haunted House accommodate large groups? How many people can experience Blind Scream Haunted House together as a group?
We love hosting large groups at Blind Scream Haunted House! We offer discounts for groups of 12 or more, and we also have a party room available for rent. Discounted tickets and the party room must be arranged in advance by calling us at 707-837-1928. We recommend going through the Haunted Houses in smaller groups of 5 or less, which really helps you get the best experience overall.
Does Blind Scream Haunted House offer any special deals, discounts, or coupons?
We have discounted tickets available for groups of 12 or more. Discounts need to be arranged in advance by calling 707-837-1928.
Anything else you'd like to let us know about Blind Scream Haunted House?
We love it when people get into the spirit of Halloween by showing up in costume. However, please no masks and be sure to wear sensible shoes as the floor can be uneven. Bring your sense of fun, we can't wait to scare you at Blind Scream Haunted House!