Annabelle: Creation Is Another Can't Miss Creepy Chapter in "The Conjuring" Series
Home » Blog » Halloween Headlines
November 8, 2017 By Cait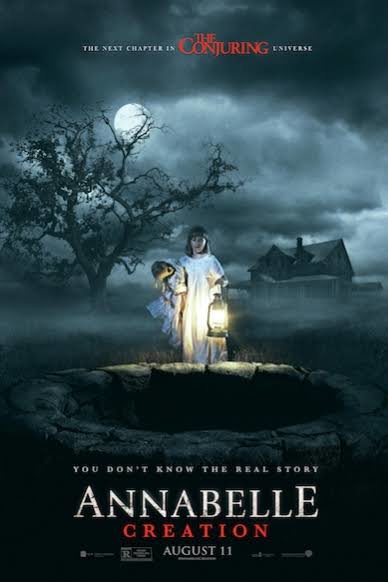 Annabelle: Creation Gives Annabelle Fans a Look Into the Origins of the Terrifying Doll.
Photo by:
Warner Brothers, via WikiCommons.
If you're a fan of The Conjuring horror movie series, then you won't want to miss out on Annabelle: Creation which hit theaters this Summer, and grossed a whopping $305 million dollars internationally, according to Box Office Mojo.

The 4th installment of The Conjuring Series, and a prequel to 2014's "Annabelle", "Annabelle: Creation" received much wider critical acclaim than its 2014 predecessor - this year's flick scored a respectable 70% on Rotten Tomatoes, whereas the 2014 movie, which was widely panned, scored in the "all-but-unwatchable" range with a rating of 28%. In an editorial piece published on Rotten Tomatoes in August, the site called "Annabelle: Creation" a "potent prequel", and going on to praise it as being a vast improvement over the prior Annabelle film.
The movie is absolutely creepy - doll maker Samuel Mullins and his wife Esther help out a spirit claiming to be their dead daughter, by giving said spirit a doll to embody, and spoiler (not really): the spirit is an evil force, which we all now know and love as Annabelle. Although the creepy Annabelle doll was safely tucked away in a closet that's been wallpapered with pages of the bible, and blessed by priests, you know - to keep the evil in, all that changes when the kind old doll maker and his wife invite a nun and her flock of orphans to come stay in their house. And despite warnings to keep the closet closed, as we all know, kids will be kids, which sometimes means accidentally unleashing evil spirits onto the household, despite the warning of adults to just leave the darn closet closed.
Despite the doll maker & his wife doing their best to protect everyone from the evil doll they accidentally created when they gave an evil spirit a body to inhabit erroneously, it seems that once the nun and her orphans move into the evil presence just can't be contained.
This film definitely has the makings of a real nightmare-fuel film, and if you didn't get to see it in theaters yet, you're in luck - you can stream it in full on YouTube (rental is ~$5), or pick it up at a local Red Box rental.
Have You Seen "Annabelle: Creation" Yet? Let Us Know Your Thoughts in the Comments Below!