Tons of Heart-Pounding Fun Happening this Halloween Season at Intermission Productions Haunted House!
Home » Blog » California Haunts: An In Depth Look
October 11, 2016 By Haunt News & Press Releases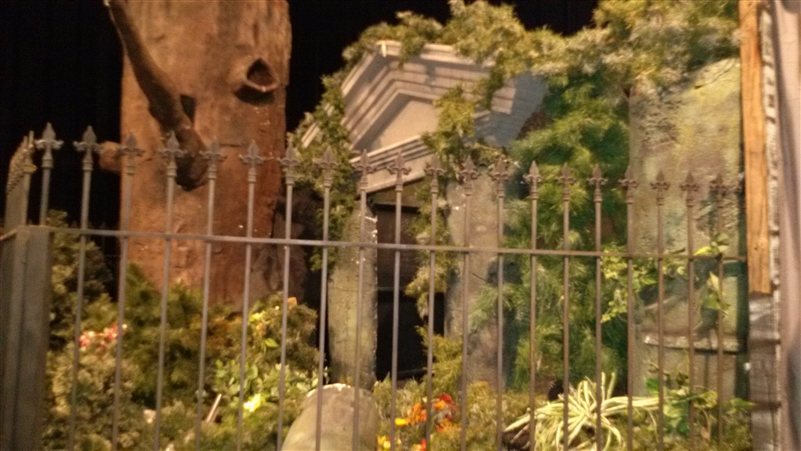 The Graveyard
CaliforniaHauntedHouses.com recently sat down with Schimen Scott of Intermission Productions Haunted House, to discuss what's new at Intermission Productions Haunted House for the 2016 Halloween Season! Located in Tracy, Intermission Productions provides its thrill-seeking visitors with a unique haunting experience.
A terrifying theatrical show takes visitors on a horrifying walk that surely awakens each of the senses, giving haunt-goers the appetite for fright they've been hungry for all year long!
What's new at Intermission Productions Haunted House for 2016? Do you have any new rides, attractions, or special features that Haunt Seekers should know about?
Special celebrity guests…
Ronald J. Fields – Primetime Emmy award winning writer/producer, New York Times bestselling author and grandson to W.C. Fields. Signing autographs and available for Q&A, October 28 & October 29.

Dave Woodman – Caricature artist and Disney animator. Drawing caricatures for customers October 27 – October 31.

Angel Erica – Gifted psychic medium, angel intuitive, will be available for one-on-one readings every Friday through Sunday.
What are you most excited about for the 2016 Halloween Season?
This year's haunt is larger than last year at 9,000 square feet. This allowed us to create larger sets for the audience to be immersed in and encourages customer interaction. The atmosphere lends a larger sense of adventure, as people navigate through an area in the haunt without being eaten.
What differentiates Intermission Productions Haunted House from other local haunts in California?
We are a "theatrical" haunted house experience and not your typical "boo, boo, scare, scare, run, run" outfit. Our haunt is a combination of live performers, puppeteers and special effects. Each themed set is creatively and masterfully designed to prey on your phobias. Every corner is strategically placed to maximize your scare.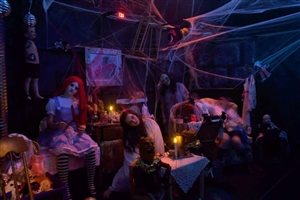 How long has Intermission Productions Haunted House been in business? Can you tell us a bit more about Intermission Productions Haunted House's history?
Husband and wife team, Sheryl Madison and Dennis Lancaster, have been in the haunted house business since 1990. Since then they have successfully created over 60 haunted houses. They have mastered not only the effects but, are very experienced on what works for general audiences. Their passion is clearly evident when you walk through the haunt.
What's your favorite experience since opening Intermission Productions Haunted House?
When all "pistons are firing", the "thrill of the haunt" is exhilarating! We enjoy interacting with the customers and hearing all about their favorite part of the haunt.
How long is a typical haunt experience at Intermission Productions Haunted House from start to finish?
10 to 15 minutes depending on the group.
On a scale from 1 to 10, how scary would you say Intermission Productions Haunted House is? Why?
Roughly an "9"... we pride ourselves on quality scare control. Remember, it depends on your phobias.
What inspired you to open up a haunted attraction? What's your favorite part of the business?
When Dennis Lancaster was a little kid trick or treating, there were many neighbors who fixed up little haunts in their front yards. He felt that these little attractions made the night so much more fun. There were motionless scarecrows that sprung to life. Old friends like Dracula, the Wolfman, and Frankenstein who would greet you at the door. Most memorable was a little old lady dressed as a witch, black cat owner on her lap illuminated by a pumpkin.

Dennis loves creating things/puppetry in the haunted house that you cannot find anywhere else and enjoys relishing in the customers terrified delight.
How has new technology (i.e. animatronics, special props, etc) helped you to enhance Intermission Productions Haunted House?
Yes. We have incorporated the advanced special effects throughout our haunt. We pride ourselves in maintaining the art of puppetry and keeping the tradition alive. All of the ingenious puppetry was designed by the "master creator" Dennis Lancaster.
Can Intermission Productions Haunted House accommodate large groups? How many people can experience Intermission Productions Haunted House together as a group?
We suggest groups of 4 at a time to experience the maximum effects.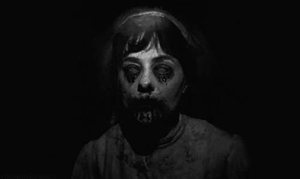 Does Intermission Productions Haunted House offer any special deals, discounts, or coupons?
Yes, a group of 6 gets in for the price of 5 people. We also offer "fast pass" tickets to get to the front of the line.
Anything else you'd like to let us know about Intermission Productions Haunted House?
We believe in providing a unique haunted house experience, like no other. We enjoy giving back to the community by partnering up with various non-profit organizations and donate a portion of our proceeds to their worthy organization. We love giving young children and teenagers a chance to showcase their talents when they volunteer their services in exchange for community service hours for school.