The Ellen Show Terrifies American Horror Story's Sarah Paulson by Sending Her Through Haunted House on Halloween
Home » Blog » Halloween's Hottest Trends, California Haunt News, Halloween Headlines
November 1, 2017 By Cait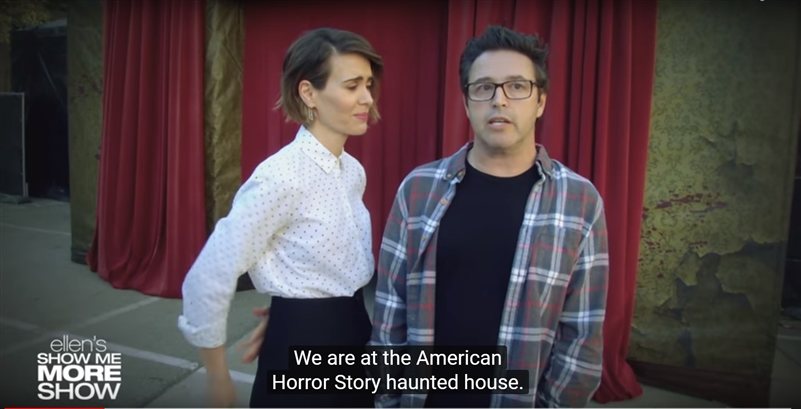 Ellen sends producer Andy through the AHS Haunted House at Universal with no other than AHS Sarah Paulson.
Photo by:
The Ellen Show, via YouTube.
Ellen DeGeneres is no stranger to Halloween - she's become notorious for putting both celebs, and show producers through the ringer each Halloween by having them go through some of the most terrifying haunted houses in the country - and filming their reactions! This year's victim, er - participant - no other than American Horror Story's Sarah Paulson, who you probably recognize for her unsettling gaze, eerie smile, and kooky characters on the show.
Every year, Ellen sends her producer, Andy Lassner, to a haunted house, and this year, she sent Sarah Paulson to accompany him through the American Horror Story Haunted Maze at Universal Studios. The clip starts out with the two visibly unnerved outside of the haunt, with Sarah egging Andy on to keep talking, and put off going through the haunt itself, all while looking super concerned. Andy urges Sarah to take the lead, to which she insists "Noooooooo I'm not!"
After they proceed into the haunt itself, the high strung duo essentially screams at anything and everything that moves, and even some things, that don't move, since they're so anxious waiting for something to pop out at them. Even things that Andy is SURE won't happen, and won't jump out at them, do, in fact terrorize the two, and at one point, he even leaves Sarah to fend for herself.
Unlike her cool, calm, and eerily collected characters on American Horror Story, Sarah is not anywhere even close to calm as she proceeds through the haunted house, with tons of shrieking happening, expletives flying, and jumping away in fear going on throughout the duration of the haunt, despite Andy's screeching reassurances that she "knows what's going to happen because this is her TV show," which do absolutely nothing to calm the star.
She admonishes countless ghouls throughout the haunt, telling them to Stay Back, and Get Away, with a lot of comical finger pointing, that does nothing to deter the monsters.
Be sure to check out the full video - it's definitely worth a watch!
Do You Love Ellen's Annual Haunted House Gag? Let Us Know in the Comments Below!