Fright Planet - America's Haunted Theme Park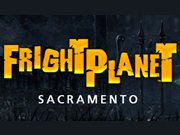 1600 Exposition Blvd
Sacramento, CA
Details
Average Review

Scare Factor

Scary

Appropriate For

Children 13 years and younger not admitted without an adult

Organization Type

Commercial / For Profit

Listing Categories

More Info

Wheelchair Accessible, Outdoor Event(s), Covered Wait Area, Touching Not Allowed, Free Parking
The Fright Planet Park offers the most value for an entire night of screams and fun.
Haunted Hayride:
A first in Northern California! You have no place to run and you're at the mercy of the demented tractor driver. Now, step aboard your hayride and take a ride into the unknown. You might want to take the ride with someone you love. It might be the last time you see them.
The Haunted Corn Maze:
There's nothing scary about a pitch black corn field, is there? Don't worry, we'll give you a flashlight. Now, don't lose it. Enter the Haunted Corn Maze and discover a world of pure evil within. Whatever you do, don't look back!
Email Haunt Owner
All photos and videos within this listing are the property of Fright Planet - America's Haunted Theme Park
Terror & Horror

Awesome place to experience a night full of terror and horror! I along with my family visited this place and we all had a blast. We purchased $40 VIP pass tickets to skip the queue and we saved a lot of unbearable time spent while standing in the general admission line. Both the attractions were good, especially the haunted hayride as setup was freaking frightening and correct proportion of special effects was mixed with live actors. We also did corn maze and it was very traditional to other haunted houses and the only good part was availability of flashlights. Impressed by the performance of actors and actress! They just nailed us by their acts and scary stuffs. It was spooky and creepy enough to keep us on the toes, but it was full of fun and entertaining for our family. Loved it!! Great work guys.

| | |
| --- | --- |
| Scare Factor: | |
| Fun Factor: | |
| Haunt Value: | |

Posted November 2017

2 out of 2 found this review helpful

Email Verified

Must Visit Place

Lovely place to experience two attractions as hayride and corn maze. Both these attractions were designed outstandingly well and they've done well in putting the theme along with the story. Happy to got the flash light on the trail in a pitch-black corn field, and it was really amazing to experience the fog lights and chanting of actors draped in the costumes of monsters and zombies. Excellent setup and confusing walk-through pushed our adrenaline level to its summit and it was really entertaining to experience a new side of fear. Certainly, a must try event for all horror freaks!! I will definitely visit again.

| | |
| --- | --- |
| Scare Factor: | |
| Fun Factor: | |
| Haunt Value: | |

Posted October 2017

very good

A must see Halloween tradition and it's right here in our hometown of Sacramento. I had a smile the entire time I was there and I was impressed with all the new houses they had this year. Unlike other haunted houses that I've been to including six flags fright fest, frightplanet always changes around their houses to completely new themes. On the other hand, they do leave some old houses (like the doll house and black out). One suggestion is Red should have less fog or more lights? Seems like some of the sets were well done but hard to make them out. Will be back next year!!

Posted October 2014

1 out of 1 found this review helpful

We are still talking about Fright Planet!

There aren't a lot of people who don't know about Fright Planet, so I will keep my review short as to not repeat myself. I came on Oct 4th and had such a scary good time that I had to come back on Oct 10th with other friends to do it all over again! Well worth the $40 price (but I found a coupon at McDonald's for my second trip and saved half)! Call me crazy but I think I'm going to go back one last time before Halloween. What amazed me the most was that I could swear they added more things from the first two times I came. There were scary things that I totally don't remember seeing the first time. So cool! Honestly, this place shouldn't be missed!!

Posted October 2014

3 out of 3 found this review helpful

Had a blast!

26 coworkers all got together and went to Fright Planet last night. We had a blast! Best way to spend a night together when we all work together during the day. Seeing your boss jump two-miles in the sky when he got scared over and over was pure pleasure. He will never live this down! Here's a secret if you want to save a ton of money going here: Go as a big group. We saved $260 by all going together (not to mention the gas we saved)!! Everyone wants to do this again next year! If you haven't heard of this place before like we hadn't, it's a must do! Thanks Fright Planet for all the blackmail we now have on our boss!

Posted October 2013

0 out of 1 found this review helpful

fright fest at it's finest

We came through the haunted house last year and had a less the stellar experience due to the heavy, unorganized lines...My daughter wanted to go back since we heard they had some new houses to enter and i'm so so so glad we did. They got their lines under control, lots of help guiding you to where you need to go and the doll factory, oh my the doll factory. We enjoyed every house but the doll factory was our favorite to date. thanks for redeeming yourself we'll be back Halloween weekend with some family coming from out of town.

Posted October 2012

1 out of 1 found this review helpful

Was a fan in 2010

Okay, so we had taken a visit to the hunted house by fright plant back in 2010. This one was in a different location in Sac, but it was put together wonderfully, staff was great and scary as hell. We so thought the one at Cal Expo was going to be off the charts. Not only because of the location, but because we were so impressed with the last one in 2010. When we got to the Cal Expo location in 2011 we had to wait in a terribly long line, but we weren't worried because we thought it would have been well worth it. Needless to say my built up anticipation was shot down the minute we stepped in to the first haunted house. The sets/attractions where not put together well and looked as though they put them up in a hurry. The staff was scary looking; however it seemed they hired a few more high school kids this time as they were not on their game when walking through the different attractions. They were either not there or didn't really care to scare anyone. I love haunted houses and we don't have very many good ones in Northern Cali, so my hope is that freight planet can take constructive criticism and put it to making themselves better and better, each year! I hope that this year is better, however if they plan on running it like last year you can count me and my crew out. Sincerely a big fan in 2010

Posted September 2012

1 out of 2 found this review helpful

Worst Experience!!

My family and I went to Fright World for the first time tonight Saturday 10/15/2011.. Let me tell this has to be the worst and most unorganized Halloween event I have ever been to!! The gates open from 7pm to 11pm on Saturday. We park and are in line by 8pm on the dot. The line has easily 400-500 people in it already. We finally get through the line at 10:04pm... Thats over 2 hours of standing in line. Just to get to the fro t and find out that most of the people in line were waiting to buy tickets at the door, and we had already purchased ours through groupon, but the people running this event for some reason didnt find it neccessary to have one line for pre-purchased tickets and one line for at the door ticket purchases!! This was very upsetting, since it took so long to get through the line, by the time we were through they werent showing the 3d movie any longer. So we are finally ane tired of standing, we're ready to get scared and have fun just to find out that every ride had a line to stand in as well. It took us another 20mins to get in the first haunted house. Then another 20 for the second. The third one was supposedly the best one "Death Row". This one line took 1 hour to get through and it wasnt worth the wait, it lasted all but 4 mins max!! By the time we were done people were leaving as it was almost mid night. We were ready to go but figured we might as well just go thru all the haunted houses that had small lines now and try n get our money's worth. We went thru the haunted house "Black Out" which was the best one, only because your in complete darkness. The actors they have SUCK!! Not scary or convincing at all. The long lines and waiting make this experience unbareable just to watch ameturish acts at best try to make a horrible attempt to scare you!!! Dont waste your money on this place instead go to the haunted house at sunrise mall or k street mall. ... Oh and also dont expect to buy drinks or refreshments in this place especially after waiting in line for hours. They literally had one ice cooler with only water and there was 400-800 people there!! Water bottle was $3... We will never go back

Posted October 2011

2 out of 3 found this review helpful

i'm still shaking

we went to the haunted theme park on their opening night. i was a little dissapointed the movie theater wasnt open but they made up for it with there actors and scare houses. The sets were so cool, and the zombies follow you around until you're crying. We had so much fun! thanks for a great night

Posted October 2011

2 out of 2 found this review helpful

Should change their name to not scary planet

I wasn't scared at all. The one thing they are really good at is their set design. This is the only thing they are consistent with. I think 2008 was the last time they were scary. The actors were better. Their haunt themes were better. To me they are trying to hard to be the biggest when they should be concentrating on the scariest. It's called a haunted attraction for a reason, To Get Scared"!!!.

Posted November 2010

VIPs beware!

The first house that we visited was the Death Row, and one of the scary guys was pretty much in my face in the beginning. I was so scared and wasn't quite sure what to do to get away from him. Overall, I loved the 4 haunted houses. We purchased VIP tickets which was a great idea until we went to the Mystery Shack, which we saved for last. There was no official VIP line, so we stood next to the general line in the front. We were the only people in the VIP line and only waited a few minutes. When it came to letting people in, they let 9 people from the GENERAL ADMISSION line in and we were forced to wait to go in after them. The overall wait in that Mystery Shack VIP line was so long that we were asked by the security guards to move out of the way even though the guy who was letting people in asked us to wait there. I would rate the Mystery Shack as poor only because I was in a bad mood being let in after a whole general admission group, was asked to move because I had to wait so long, the guy running the shack had a poor attitude, and did not care about his job or made the experience enjoyable for the guests. I would have left satisfied with the experience but the person who ran the Mystery Shack line ruined it for me. I would recommend it to others but definitely warn them about VIPs not being treated like VIPs and that they should think about saving those extra dollars.

Posted October 2010

0 out of 1 found this review helpful

Simply Amazing!

The haunts are 100% better this year! The saloon is AMAZING! The brothel girls scared the hell out of me. Nightmare Visions was completely trippy. The random easter bunny in it scared the hell out of me! Undertakers Revenge was amazing and has a REAL MEATLOCKER! Who does that? LOL And Death Row had some crazy, creepy characters in it. I also loved that they had other attractions for those too scared to go through. The Mystery Shack was really cool. Just like the Mystery Spot, which I love. The Movie theater was nice, movie was ok. Overall, They are 200% better than anything they've had in the area in years.

Posted October 2010

waste of time

I visit all the haunts in the area every year and have never been impressed with Fright Planet. But I was super exited for this year it was all new and even more to do. But on e I got there it was still the same. Not much there. It feels more like a big home haunt then a pro one. And I actually payed for that. Each year I say I will not go back. This time I mean it. There are better haunts around and I will just go twice to the other.

Posted October 2010

1 out of 2 found this review helpful

Nice Haunt

I gave it a 4 at of 5 stars because they have zero pneumatics, animatronics, or effects anywhere. Good fun for the entire family.

Posted October 2010

scary!

had the best time at fright planet. cannot wait for them this year! a must do every year!

Posted September 2010

0 out of 1 found this review helpful
You Might Also Be Interested In...
All information on this page was submitted to California Haunted Houses and was believed to be accurate at the time it was posted. Please report any inaccuracies
here
.