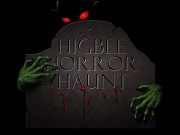 2936 Veneman Ave.
Modesto, CA
Details
Average Review

Scare Factor

Very Scary

Appropriate For

all ages welcome, but not recommended for children under the age of 13

Organization Type

Commercial / For Profit

Listing Categories

More Info

Wheelchair Accessible, Indoor Event(s), Covered Wait Area, Touching Not Allowed, Free Parking
Higbee is a savage, ruthless creature, that was once a normal man. He found a way to consume souls by eating the flesh of other humans. From this he grew stronger and faster, but at a price. His body started to transform into a hideous monster. He was captured and sent to a mental asylum for his crimes. He eventually broke free, slaughtering and eating all in sight.
1950's Cannibal Clown Diner:
In the early 1950's, Krinkles the Clown became famous after doing a breakfast cereal commercial. He then bought a roadside diner off route 66 with a clown theme. As time went on the popularity of the diner went down. Krinkles went bankrupt and was struggling keeping the diner open. One night some rude stragglers stopped by the diner. They complained about everything to the staff in the diner and demanded a refund. Krinkles finally snapped and hacked the two up into pieces. Him and his staff all at once smiled at each other. While cleaning up and attempting to hide the body parts, a tour bus arrived filled with hungry tourists. Now with a diner filled with customers wanting food, Krinkles instructed his Chef Toto to cook the body parts and serve it to the customers. Everyone loved the food and couldn't wait to return. Krinkles and his staff tried the food as well and ate it all. Krinkles Diner is back in business and looking for more meat. Once you enter Krinkles Diner will you be served a delicious meal or will you become the next meal? Stop on by and find out. Just off of Route 666!
Frankenstein:
Enter the mad scientist's lab, where Dr. Frankenstein himself will escort you through. He can't wait to show you his latest experiment. He says he has finally found a way to bring the dead back to life. The townspeople have said he has gone crazy and he has been caught grave digging. Maybe he has gone crazy and is ready to turn his experiment onto the world, but first...... he will turn it onto you.
The Emotionless:
In June 1972, a woman appeared in Cedar Senai hospital in nothing but a white, blood-covered gown. Now this, in itself, should not be too surprising as people often have accidents nearby and come to the nearest hospital for medical attention, but there were two things that caused people who saw her to vomit and flee in terror. The first being that she wasn't exactly human. She resembled something close to a mannequin, but had the dexterity and fluidity of a normal human being. Her face was as flawless as a mannequins, devoid of eyebrows and smeared in make-up. There was a kitten clamped in her jaws so unnaturally tight that no teeth could be seen, and the blood was still squirting out over her gown and onto the floor.
The Doll Maker:
There's a sick sadistic serial killer on the loose that goes by the name "The Doll Maker". He captures women and takes them to his secret workshop. Once there he hooks them up to tubes that suck out their blood and replaces it with hot liquid plastic. Afterwards he stitches them up and dresses them up in doll outfits. Inside of his workshop he built a giant doll house for his doll creations. Craving more specimens to work with, he has brought his doll creations to life and has sent them out to kidnap more victims. You will be sent to the workshop and travel inside the giant doll house. Once inside watch out for his undead doll army and any other creations he has made up. Will you make it out alive or end up becoming part of the undead doll creations made by The Doll Maker!
Gingerbread House Witch:
Once upon a time there was an evil witch living inside a gingerbread house. She would lure children into her home with candy. Then she would lock the kids up in a cage and fatten them up with candy and sweets. Once the children got big enough, she would cook them in an oven and eat them. After a run in with a little boy and girl, who escaped and pushed her in her own oven, she survived. Now the witch is still living inside the old gingerbread house, luring in anything or anyone to lock up and eventually eat. It's your turn to step into the woods to the old house and be enticed by the smell of candy. Beware of what awaits you once you enter, you just might be captured and devoured by The Gingerbread House Witch.
3 Little Pigs:
Once upon a time there was 3 little pigs. The three of them each built a house out of different materials; straw, sticks, and bricks. One night a big bad wolf came by and blew down the pigs house made of straw and ate the pig. The wolf then attempted to do the same with the second pig in the house of sticks. The second pig got away and ran into the brick house with the third pig. The wolf tried finding a way inside and finally got on the roof and climbed down the chimney. Inside the pigs were preparing a meal, with a cauldron over a fire. The wolf fell into the cauldron and the pigs slammed the lid on him. The pigs cooked the wolf and ate him for dinner with the first pigs body still in it's stomach. Having the taste of blood, the pigs craved more of it. They would slaughter any wolf that tried to eat them and instead eat the wolf. Their hunger grew to more animals and then something new entered their world, humans. Be prepared to enter the old brick house and witness these flesh eating pigs in this gruesome fairy tale version of, 3 Little Pigs.
Alaskan Vampires!
Deeply inspired by the graphic novel "30 days of night". A clan of vampires live in underground tunnels and caves, throughout the state of Aslaska, during the summer solstice. The Summer Solstice is 80 days of complete sunlight. During this time the vamps hibernate, waiting for the winter solstice. The Winter Solstice is 67 nights straight, with no sunlight. During that time the Vampires will rise up and feed. Luckily that doesn't start til November 31st, but unfortunately you will be venturing into their icy caves and tunnels. Try to navigate your way out of the maze of tunnels before this clan of bloodthirsty Alaskan Vampires wake up and come after YOU!
Higbee's Asylum Escape:
His name is Higbee, once a murderous psychotic man, he would eat his victims believing it gave him special powers. After awhile his body began to change. He started loosing his hair, his ears started forming to a point, his eyes became bloodshot red, and his skin started turning green. He eventually got caught and thrown into an insane asylum. There he started slipping more into madness. He chewed on his fingers and turned them into claws. He then clawed at his mouth, exposing his sharpened teeth. One night in an attempt to move Higbee to a medical treatment, he ripped free of his bindings and started killing all of the workers at the asylum. Step inside the asylum and the horror of Higbee's Asylum Escape.
Dia De Los Muertos:
In Aztec mythology, Mictecacihuatl is Queen of Mictlan, the underworld, ruling over the afterlife with Mictlantecuhtli, another deity who is her husband. Dia De Los Muertos, day of the dead, originated from the Aztecs and involved ritual sacrifice. They would celebrate the lives that were sacrificed and believed life was a dream and in death came being truly born. The festival has now become celebrating the life of loved ones lost. Mictecacihuatl and Mictlantecuhtli are angered by this and have risen from Mictlan to restore the ancient festival to what it once was. The two ancient deities are now on a sacrificial rage, killing all that cross their path. Will you survive and make it through or will you become a victim in their celebration of "Dia De Los Muertos".
Email Haunt Owner
All photos and videos within this listing are the property of Higbee Horror Haunt
Across from the mall on Dale Rd, inside The Halloween Guys store.
Recent Reviews
Great

.

| | |
| --- | --- |
| Scare Factor: | |
| Fun Factor: | |
| Haunt Value: | |

Posted 10/30/16

Higbee Horror Haunt

My favorite place to visit a at Halloween! Always fantastic themes, we'll put together, and plenty of frights to delight everyone! The team are a bunch of great people who great you and keep you entertained while you wait your short turn, overall a great event!

Posted 5/14/15

3 out of 4 found this review helpful
You Might Also Be Interested In...
All information on this page was submitted to California Haunted Houses and was believed to be accurate at the time it was posted. Please report any inaccuracies
here
.